Geneviève Vincent - Key Prop
Publié le January 11, 2023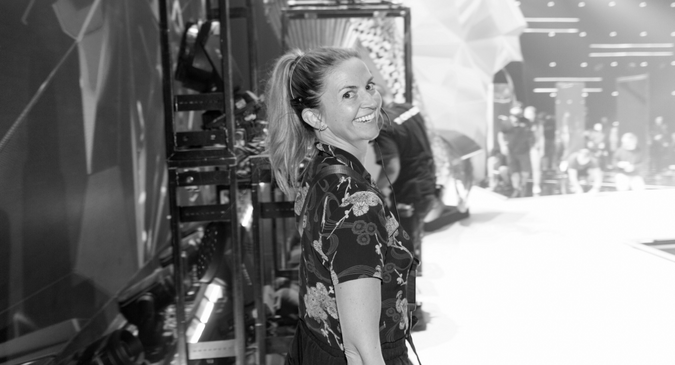 Translated from French


WHAT IS YOUR JOB? HOW WOULD YOU DESCRIBE YOUR WORK?
As Key Prop, I oversee the manufacture, purchase and preparation of props. I also liaise between the director, the production and the suppliers to make sure everything is delivered on time for the shoot. So it's important for me to surround myself with dedicated, do-it-yourself people, and to have a team of professionals by my side, in order to create the atmosphere the director wants. 
I work mostly in variety, which is to say show acts, reality TV and TV stages. Every project is different and takes me to a stimulating creative space. I often have to design and manufacture items from scratch to tight deadlines in order to create a unique atmosphere and a wow effect. 
WHAT PART OF THE JOB DO YOU LIKE THE BEST?
I love to make things on a big scale. I particularly enjoy the brainstorming behind each project and then shifting into production mode. You have to be in symbiosis with the director in order to translate their vision into reality. It isn't always easy. Their ideas are sometimes very bold and complicated to realize, but I like to take on new challenges, push the limits and surprise people.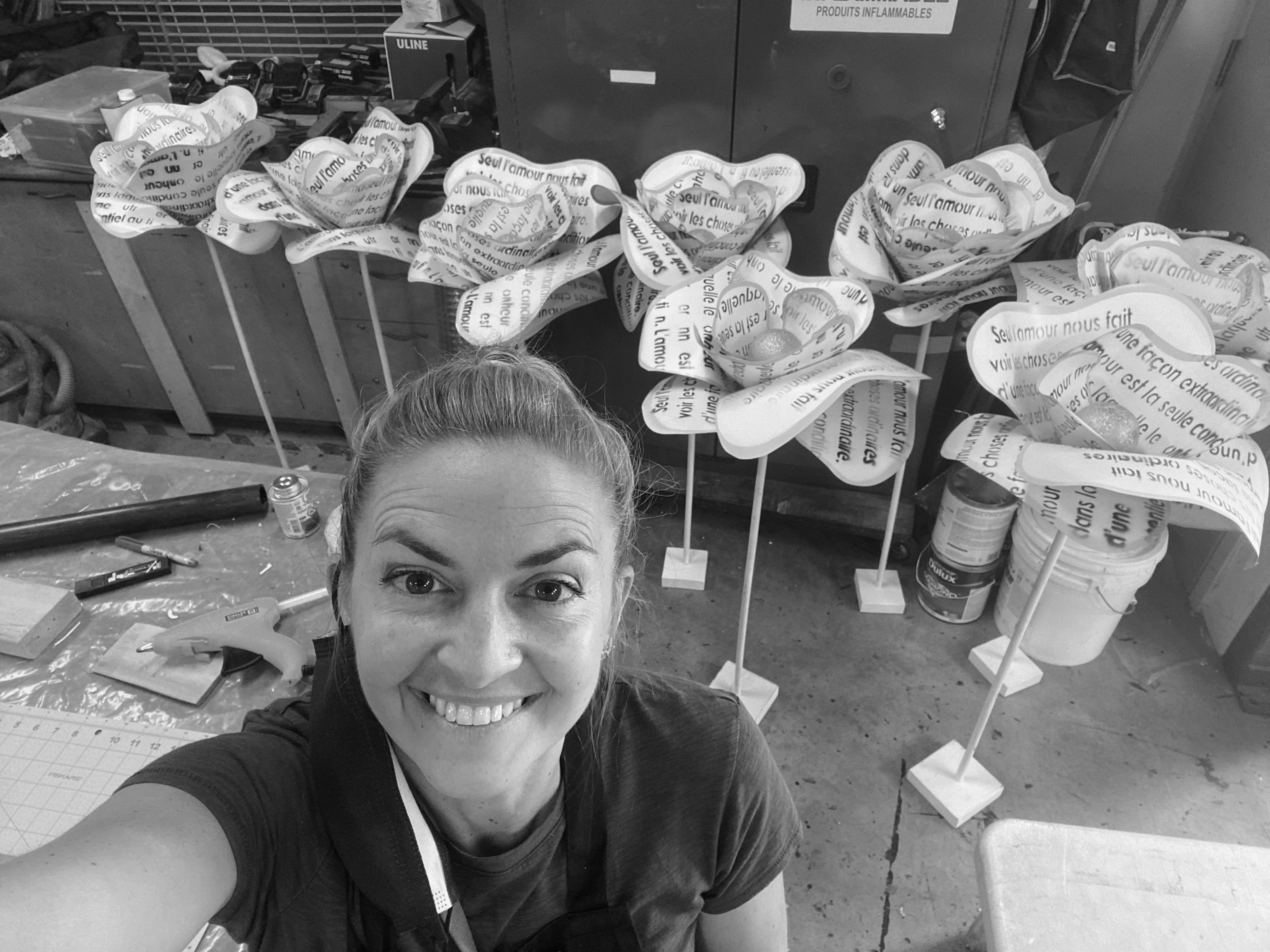 WHAT WAS YOUR FAVOURITE PROJECT?
To me, Chanteurs masqués is the Holy Grail of props. The big budget for the show's props and sets gives us a chance to express our creativity, to create playful worlds and design things that defy the imagination. The staging is magnificent, the sets are huge and each character has their own style. 
I'm also proud of the collapsible tree my team and I built around a structure of pool noodles for Révolution. The dancers could even climb it and hang from the branches. We had 10 days to design and make something beautiful, practical and safe. Our efforts paid off. There is nothing more satisfying than seeing my sketch transformed from imaginary object to reality.
«I like to take on new challenges, push the limits and surprise people. »
Geneviève vincent
IS THERE AN ANECDOTE ABOUT YOUR WORK THAT COMES TO MIND?
Everything we do is a story to tell! If you knew how many times I've been asked to create strange objects and outlandish environments... One time, early in my career, I needed fake entrails, organs, hands and feet for Sketch Show. I went to the special effects guy and he gave them to me in a clear bag. So I was walking down the street to the TVA studio carrying a bag full of fake human parts and a can of fake blood, and who should I encounter but four bicycle cops! You can imagine the looks they gave me. It was an awkward moment.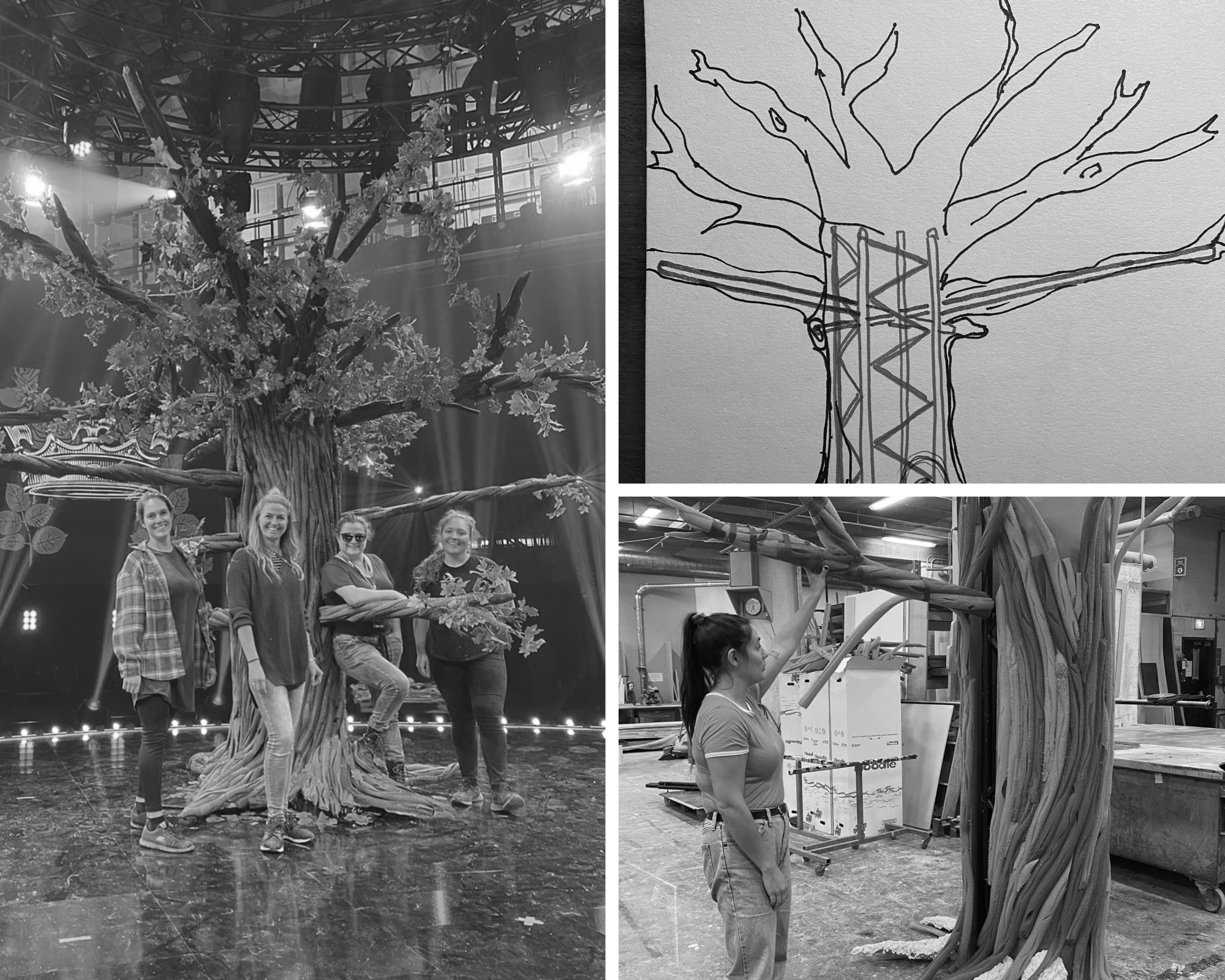 HOW DO YOU SEE THE FUTURE OF THE PROFESSION?
The Property department has great potential! It's vast and has many talents and specialties. When you work in television, you have to wear many hats and wield an arsenal of tools to meet all the needs on the set.
Despite all that we do, there are no awards for television props persons and decorators. People in my field can't be nominated for a Gémeaux. I think that's a shame. We don't get any thanks or congratulations at the awards shows, the way other departments do. I hope that one day the value of our work and the importance of our department will be recognized. Props people and decorators do essential work that transports audiences into imaginary worlds. Without us, the set would be pretty empty!
WHAT WOULD YOU SAY IS THE QUEBEC AUDIOVISUAL INDUSTRY'S GREATEST STRENGTH?
Everyone knows it and says it: Quebec technicians make a little go a long way. During the shooting of Chanteurs masqués, a choreographer from New York told me that even though we had one-third the budget and one-third the time of the U.S. show, our final product was slicker. Our creativity and ingenuity are our greatest assets!