Kathy Kelso - Head of Makeup Department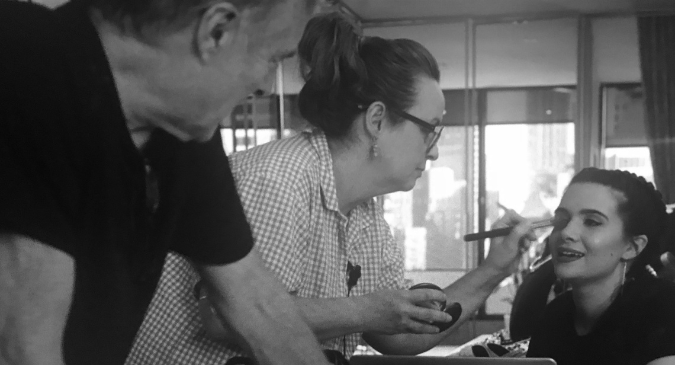 Translated from French

What is your job? How would you describe your work?
I am the head of the makeup department. I organize, supervise and ensure that everything runs smoothly within the department.


What part of the job do you like the most?
I really enjoy working and interacting with my other colleagues ‒ the teamwork between departments, including lighting, post-production and camera, is essential to the smooth-running of the shooting. The make-up artist must work hand in hand with those who manipulate the image and light in order to achieve the desired look. It is our joint effort that makes it possible.
What was your favourite project?
There are several for different reasons. I especially loved working on the five seasons of The Bold Type as I had much creative freedom in designing the looks. The encounters I've had on Three Pines, and right now, on Scream 6, were also among the most enjoyable sets I've ever worked on. 
«There is no doubt that film and tv makeup will continue to evolve with the arrival of new technology. »
Kathy Kelso
IS THERE AN ANECDOTE ABOUT YOUR WORK THAT COMES TO MIND?
I have many, however I can't share most of them! Let's just say that sometimes I get ''interesting'' requests. A director once asked me if I could make stuffed rabbits look more lively. 


HOW DO YOU SEE THE FUTURE OF THE PROFESSION?
There is no doubt that film and TV makeup will continue to evolve with the arrival of new technology. The technological innovation in the audiovisual industry has been constant for years now. As cameras become more and more powerful, new cosmetic products are regularly put on the market to follow the trends and to adjust and advance in steps with the higher resolution.


WHAT WOULD YOU SAY IS THE QUEBEC AUDIOVISUAL INDUSTRY'S GREATEST STRENGTH?
The technicians here are creative and efficient!  We are often faced with limited resources on low-budget film sets, but we work with what we have and make it work. This shortage pushes us to hone our skills and take initiative, and helps us unlock our full creative potential.